---
Delivered by Cecelia Ann Hauptman at the Women's Auxiliary
Annual Meeting and Spring Luncheon on May 12, 2016…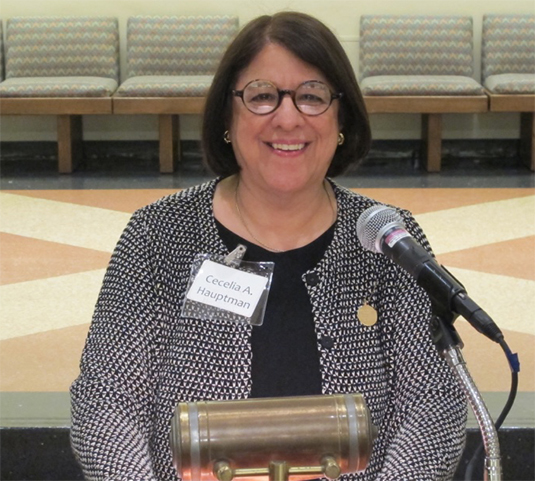 Photo: Wendy Glick
I am proud and privileged to have served as president of our
94-year-old Women's Auxiliary of Congregation Emanu-El of
the City of New York and grateful for the opportunity to be
serving our congregation in support of all women of Emanu-El
as we enter into our 95th year.
Who are we?
Temple President Louis Marshall, in 1922, appointed a committee to organize an Emanu-El sisterhood, a Women's Society as a social and civic organization within the temple, open to all women of the congregation. According to our bylaws, our purpose is "to assist Congregation Emanu-El with its religious, educational and social programs by encouraging and maintaining a close bond of friendship among its members through participation in the community, congregation and religious philanthropies." Our membership represents congregational women of all ages. Our sisterhood is a caring, supportive organization helping to strengthen our deeply beloved Congregation Emanu-El of City of New York. Your membership supports our programs, charities and projects that enable us to fulfill our mission, as we move courageously into the 21st century and our 95th year!
As a result of your contributions and the efforts of Membership Committee Chair Joanne Froelich, our membership flourishes. This year our total membership is 417: 281 members and 136 complimentary memberships for new female temple members. Women's Auxiliary membership includes Religious School parents, Nursery School parents, professionals, mothers, daughters, grandmothers and new female members of Temple Emanu-El. We are active participants in the daily life of our congregation. Our board will be holding our annual spring reception honoring new members on May 17, 2016. This reception, to be held in Temple Emanu-El's Herbert and Eileen Bernard Museum, acknowledges the Women's Auxiliary past president and founding Bernard Museum Curator Reva Godlove Kirschberg, of blessed memory. Through her dedication and commitment to Reform Judaism and Temple Emanu-El, we are able to enjoy a "Cocktails and Conversation" reception with our current Museum Curator, Warren Klein. We are the sisterhood of Reform Jewish women of Congregation Emanu-El of the City of New York.
What do we do?
Since 1945, we have been holding an annual
Veterans Party
. This year, veterans from hospitals in Montrose and St. Albans will be treated to a Yankee game and lunch, planned by our co-chairs Alexandra Bloch Jeydel and Ann Shapiro. Our 61-year-old
Emanu-El Center for Seniors,
meeting every Monday in Blumenthal Hall, will be having its annual Art Show on May 16, 2016. We are so grateful to all those women who volunteered to staff our Monday program this year. You all are invited to attend. Under the direction of Jocelyn Chait on Wednesdays and Rhona Lipton on Thursdays, our 48-year-old
English in Action
program, meets once a week during the fall, winter and spring. Since 1998, monthly dinners have been arranged for our
Ronald McDonald House
project through the compassionate hearts of Bunny Barb (Ronald McDonald 2013 Hope Award recipient), Phyllis Hahn (2008 Hope Award honoree), and board member Marjorie Dreyfus. Since 2006, Eve Haberman, of blessed memory, has been organizing
Project Backpack,
which supplies 100 kindergartners from P.S. 112 with new backpacks, filled with a variety of school supplies. Carol Hess graciously stepped up this year lending her helping hand to this project. The
Women's Auxiliary Book Club,
established in 1999, has been under the stewardship this year of president-elect Carol Hess, promoting thought-filled, lively and stimulating book discussions led by our rabbis — Joshua Davidson, Amy Ehrlich and Allison Tick Brill — and Interim Cantor Lance Rhodes. The favored author this year was Rabbi Harold Kushner. The Women's Auxiliary and Stettenheim Library together hosted
Meet The Author with Rabbi Kushner
on March 31.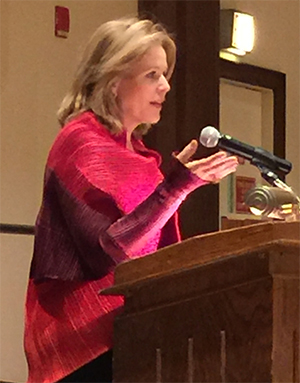 Special Guest: Renée Fleming
The Women's Auxiliary is proud of its long-standing
Temple contributions:
helping to underwrite the Sukkah each year, contributing to
Kiddush
Cups for each bar and bat mitzvah, and presenting a gift to confirmands. Since 2010, the Women's Auxiliary has been hosting Community Sabbath dinners at temple. This year, renowned soprano
Renée Fleming
was our guest at our
Emanu-El Community Sabbath dinner in the fall.
At the Spring Sabbath dinner in March, we were honored to host Sirit Catz of the organization
CAMERA: The Committee for Accuracy in Middle East Reporting in America.
Our contributions to the community include the Temple Emanu-El Annual Fund and our past Skirball donation in honor of Rabbi Emeritus Ronald B. Sobel, sponsoring a teaching chair at the Skirball Center. Our Women's Auxiliary name is on a plaque honoring our Rabbi Emeritus Dr. David. M. Posner in the Goldsmith Religious School building. We give to the greater Jewish community supporting Hebrew Union College–Jewish Institute of Religion scholarship fund and to Women of Reform Judaism.
Through our board member liaisons, we are building bridges to other temple organizations. We are participating in Religious School activities. The Women's Auxiliary coordinated in the fall a
Sukkot Sweet Shoppe,
in the winter
Chanukah sweet treats
with cookie decorating, and during the
Purim Carnival
our very popular cupcake-decorating booth. Our board liaisons to Tikkun Olam and Emanu-El Cares — Carol Hess and Marlene Yokel — have been instrumental in coordinating this year a
Women's Auxiliary Mitzvah Day project with Blue Card.
We put together Chanukah gift baskets on Mitzvah Day to give to Holocaust survivors. Eva Cooper, a Women's Auxiliary board member who is a holocaust survivor, volunteered on this outstanding Mitzvah Day project. Our auxiliary members supported the temple's
Women's Seder
initiative. 2015-2016 Board Member Jennifer Leyton was its committee chair.
Under the leadership of Leslie Hecht, our programming chair, and her committee, we have organized the following outstanding programs, which help to support all of our 2015-2016 projects. They were:
Lama Lo (Why Not?)
, sisterhoods from area synagogues coming together for lunch and a tour of the Bernard Museum exhibition
"Visualizing the Bible,"
with Curator Warren Klein; two
Sabbath dinners;
Lunch with Mr. Chocolate,
lunch and chocolate tasting with
Jacques Torres; The Power of Style: Verdura at 75; Coffee With...Slovie Jungreiss Wolfe,
freelance writer and author;
We Can Work it Out
with Lynn Fried, licensed conflict mediator;
Whitney's West Side Story,
a private tour of the American art exhibition;
Back When Harlem was Jewish,
a guided tour through Harlem;
On The Road Again...Sagamore Hill Summer White House,
a guided tour of the home of Theodore Roosevelt, 26th President of the United States; and today's
Annual Spring Meeting and Luncheon
with Mimi Sheraton, pioneering food writer and former restaurant critic.
As out-going president, thank you all for your dedication and commitment: Honorary Presidents; Vice Presidents Joanne Froelich, Leslie Hecht and Ann Shapiro; Treasurer Rosalind Pretzfelder; Recording Secretary Marlene Yokel; members of our Board of Directors; Honorary Board members; and our Administrative Assistant Dionne Gorbea. We are grateful for the support of Senior Rabbi Joshua Davidson, Rabbi Amy Ehrlich, Rabbi Allison Tick Brill, Interim Cantor Lance Rhodes, and temple administration and staff, whose ongoing assistance help us in enriching all women here at Temple Emanu-El.
I would like to especially acknowledge today Ramlal "Joe" Bissram for his years of service to our auxiliary. Joe and I have worked together since 1992, when I was on the Religious School Parents Board, through my term as Women's Auxiliary president. On behalf of our 94-year-old auxiliary and our past and honorary presidents, we present you with this gift as a token of our appreciation with great love. We look forward to celebrating with you as the recipient of the Samuel Sacks award on May 19.
Gloria Steinem states, "The greatest indicator of a stable society is the status of women." We, members of Congregation Emanu-El and the Women's Auxiliary, are preserving our historic legacy. We create community; we promote Judaism; we are inclusive, egalitarian, joyful, passionate, constantly evolving Reform Jewish women. Our temple arm embraces Congregation Emanu-El, and our individual member hands are maintaining a sacred liberal Reform Jewish community that is enhancing our sacred space. We are the heart and soul of our congregation.
We invite all the women at Emanu-El to join us.
Back to Women's Auxiliary